Pidgin's spell-check feature doesn't work by default on FreeBSD, so I finally searched for a solution and found instructions to manually install spell-check support on Windows. That was useful enough information to get it working.
Simply download OpenOffice's U.S. English dictionary and save it to /tmp (or another convenient location). Then extract the required files as shown below:
unzip /tmp/en_us.oxt "en_US.*" -d /usr/local/share/enchant/myspell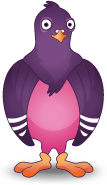 You'll need to fully exit and restart Pidgin for it to load the dictionary.
I installed the U.S./American English dictionary above, but you can search for the dictionary for your preferred language and modify these instructions as appropriate.